T-fal Powerglide 1800 Watt Ceramic Steam Iron
About this Item: 
_________________________

For clean steam and long-lasting powerful performance, choose the Powerglide FV2640 steam iron from industry-leader T-fal. The 1800-watt iron comes equipped with an innovative calc collector that catches limescale deposits and removes for easy cleaning. The iron generates up to 50% more steam than the competition, making it possible to quickly remove wrinkles from work shirts, trousers, evening wear, table linen, and more. The iron includes a Durilium soleplate, which consists of an aluminum layer for fast, even heat and an enamel layer for an ultra-superior smooth glide across even the most delicate fabrics. The iron's precision-point tip comes in handy for reaching into pleats, pressing collars, and maneuvering around buttons, while its ergonomic steam trigger, located on the underside of its handle, requires nothing more than a press of the finger to release a powerful burst of steam (110-gram/min). Other highlights include vertical steam for hanging garments, an anti-drip system to prevent leaks or spitting at lower temperatures, an extra-large water inlet for convenient filling, and a self-cleaning system, as well as automatic shut-off for safety and peace of mind. Enjoy reliable high-quality steam with the T-fal Powerglide FV2640 steam iron.

 
_________________________
Package Includes:
_________________________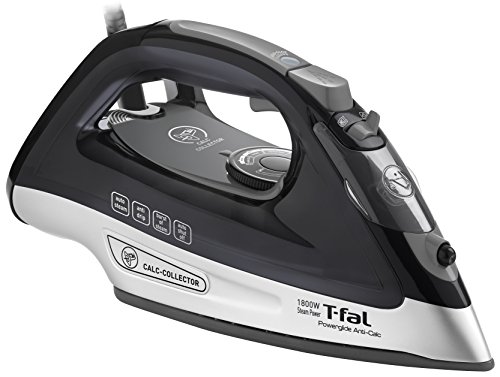 _________________________