Betty Crocker Pizza Maker
About this Item: 
_________________________

For fast, delicious pizza, this pizza maker is a great choice. It's not just for pizza, though - make quesadillas, nachos, mini frittatas, quiche, croissants, giant cookies, hors d'oeuvres and more. The nonstick coated baking plate bakes the crust to perfection and makes cleanup easy. Don't worry about turning on an oven next time you want pizza. Just reach for this pizza maker.

 
_________________________
Package Includes:
_________________________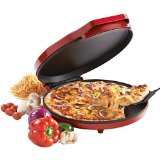 _________________________