Coby Swivel Screen Car Dash Cam
About this Item: 
_________________________

Coby's Car Dash Cam is a one of a kind camera designed for your dashboard. This cam is easy to use and setup. Its automatic ON/OFF feature allows for easy use. Its main feature is the 2.5" IFT swivel screen. This cam is well equipped with 4x Digital Zoom, a 2.5" TFT screen and LED nightvision. This cam supports up to 32GB SD card. This camera is sleek and user friendly. This Vehicle Recorder is a device installed in car windshield to record video, audio data related to vehicle impact or accidents. Information from device is stored in memory card and can be analyzed to help determine what the vehicles were doing before, during and after the crash or event. The term generally refers to a simple, tamper-proof, read-write memory device, similar to the "black box" found on airplanes (as opposed to the tape recorders and video cameras common in police vehicles and many commercial trucks). Features IR day and night vision for recording. 
_________________________
Package Includes:
_________________________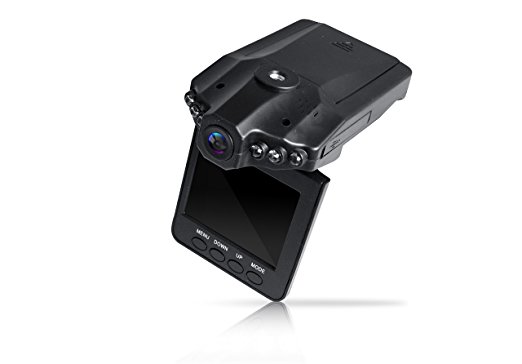 _________________________