COMFORT ZONE 6" Clip-On Fan
About this Item: 
_________________________

Comfort Zone CZ6C - 6" Clip-On Fan. Perfect for recessed use in home or office or on a table, desk or RV. Adjustable tilt to aim airflow exactly where you need it. Easily clips on to any surface with a strong clamp for firm grip. Whisper quiet, reliable operation. Two speed rotary control adjusts speed to customize air flow: high or low. Built in carry handle. Tough break-resistant ABS plastic blades. Poly-coated metal safety grill prevents any user injuries and damages to the fan itself. Wind Speed 9.29 feet per second. Measures: 6.75" long x 6.50" wide x 7.50" high. ETL listed. Color: White. Did you know that electric fans can do more than just cool? They circulate the air, keeping it in motion, maintaining a fresh breeze that cools as well as reduce humidity levels. Fans also add ventilation and prevent the inhalation of dangerous gases and fumes. As a top brand in the Americas, Comfort Zone is featured by some of the largest and most recognized retailers worldwide. All Comfort Zone products are designed and tested to exceed UL, ETL, SAA, CE, NOM and other global marks for quality. They are manufactured under the supervision of our U.S. and China based Engineering and Technical Staff. HBC Home & Hardware Products - driven to perfection producing quality products for everyday living.

 
_________________________
Package Includes:
_________________________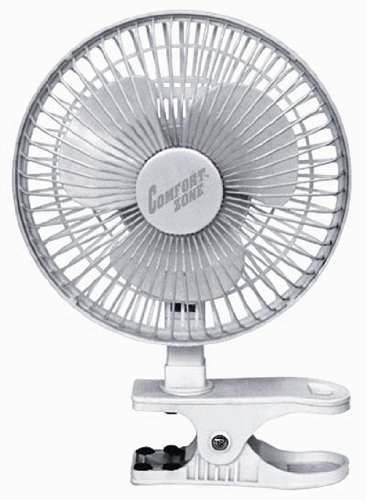 _________________________