Eurolux 6 Qt. Slow Cooker Without Pot Handles
About this Item: 
_________________________

Get ready to slow down and enjoy meals!

Your Eurolux Slow Cooker is designed to have your favorite one-pot recipes ready and waiting for you. It's the perfect size for making any meal for any occasion . . .

Non-stick cooking pot
The Eurolux slow cooking pot with non-stick interior and oblong shape accommodates many food types. Large-capacity for family-sized meals or entertaining. Safe for oven, freezer, or range top use. Dishwasher-safe as well.

Griddle
Base can be used as a griddle, with its non-stick surface it's easy to clean .

Glass Lid
See-through glass lid keeps ingredients moist.
Adjustable Temperature Control.
Non-stick cooking pot.
Dishwasher safe glass cover.
Detachable Power Cord.

The Eurolux Slow cooker is constructed of quality materials and electronics, and we stay behind it, may you have question or comments, feel free to contact us,
A 1 year limited warranty guarantees you full satisfaction

Click the "ADD TO CART" button now and create your beloved dishes!

 
_________________________
Package Includes:
_________________________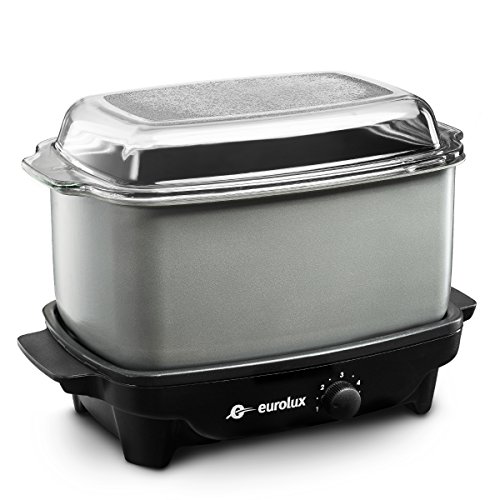 _________________________