Farberware Millennium Nonstick Coated Porcelain Enameled Aluminum 12-Piece Cookware Pot Set, Bronze
About this Item: 
_________________________

This striking cookware set has every shape and size a kitchen could need. Sauté green beans in the 8-inch skillet, simmer a beef stew in the covered stockpot or boil macaroni in one of the covered saucepans. Any meal of the day will be a joy to prepare with this versatile set – and it comes with two nylon Prestige(r) kitchen tools for an even more complete way to stock the kitchen. Farberware Millennium Porcelain Nonstick is the collection for home cooks who want their cookware to be stylish and modern, yet retain the durability, reliability and exceptional cooking performance Farberware has delivered for over 100 years. The porcelain enamel exteriors are stain resistant and easy to clean, retaining their finish even after years of daily use. Glass lids allow for cooking to be overseen without sacrificing heat or moisture, and the dual-riveted handles provide a strong grip with a touch of comfort thanks to the silicone padding; they are oven safe to 350°F. The greatest technological advancement comes with the SmartGlide Pro technology. This system features top-quality nonstick with Metal Guard. The nonstick is durable, high quality and safe to use with metal utensils, and covers a revolutionary dimpled interior that reduces surface abrasion for longer-lasting nonstick. This dimpled interior also creates hot air pockets that transfer heat to food for quick and even browning and cooking. Classic cookware and modern technology come together seamlessly in this Farberware line, making it easy to create any recipe in style.

 
_________________________
Package Includes:
_________________________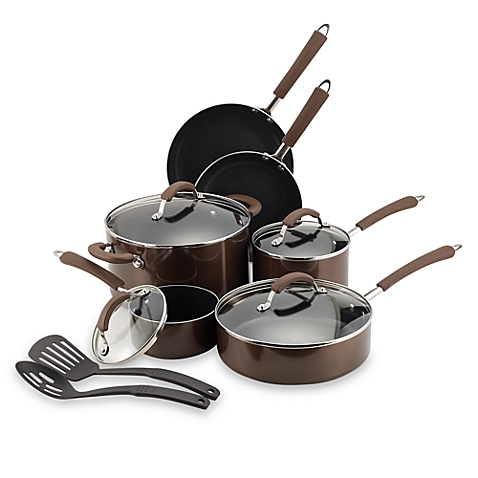 _________________________