Flybar Maverick Walking Stilts for Juniors, Orange
About this Item: 
_________________________

From Flybar, the Original Pogo Stick Company comes another original; the Flybar Maverick Stilts.
Ergonomically engineered for safety and fun. That's one small step to get on, One Giant
step for Fun!

Explore great new heights of fun with the new Flybar Maverick Stilts.

Features of the Flybar Maverick Stilts:

• Ergonomic comfort hand grips and wide rubber tips provide steady maneuverability.
• The Flybar Maverick Walking Stilts are easily adjustable to achieve the best possible fit.
Adjust the stilts in no time to accommodate your growing child.
• These lightweight classic metal recreational stilts were redesigned with the widest custom skid
resistant foot pad on the market for an incredibly easy and stable feel.
• The Maverick Stilts are designed for younger kids from ages 5 & up and can also easily
handle weights up to 190 lbs.
• Some assembly required.

It is so easy and fun, you'll be walking tall and having a blast in no time with the new Flybar Maverick Stilts!

 
_________________________
Package Includes:
_________________________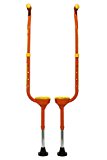 _________________________