Full size junior Violin w/ Case
About this Item: 
Teacher approved violin, perfect for all players
Each violin comes along with a bow and a travelling case
_________________________
The Student Violin Ensemble offers beginners and students a high quality, yet affordable instrument. Constructed from hand carved Spruce with aged maple back and sides, the violin produces a surprisingly resonant and lovely tone. Ebonized pegs and fingerboard provide worry-free playability. The violin is varnished by hand to ensure a beautiful instrument where the sound can freely resonate, unobstructed by a heavy finish. This extra care extends to the French maple bridge as well. Includes lightweight, protective case with shoulder straps, Brazilwood bow, and rosin!
_________________________
Package Includes:
1 Bridgecraft 4/4 violin
Horsehair bow
Durable travel case
_________________________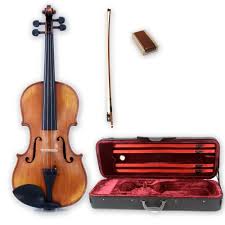 _________________________