iHome Bluetooth Clock Radio
About this Item: 
_________________________
Bluetooth FM Clock Radio with USB Charging
The iBT20 is a Bluetooth-enabled wireless alarm clock radio. Stream wireless digital audio via Bluetooth from your iPhone, iPad, Android, Blackberry and other Bluetooth-enabled devices. Reson8 speaker enclosure plus EXB circuitry for full, rich sound. USB port to charge devices. Aux line-in jack for playing almost any audio device.
Enriched Sound Quality
The iBT20 is equipped with EXB sound enhancement. The EXB is a built-in audio enhancement that delivers deep rich bass and high frequency clarity for a crisp detail sound. The iBT20 also includes Reson8 speaker chambers that are specially designed sealed speaker enclosures which delivers astounding clarity, depth and power to your music.
Bluetooth Compatible
The iBT20 works with Bluetooth by sending digital audio wirelessly from you iPad, iPhone, and iPod touch, Android, Blackberry or other Bluetooth-enabled audio devices. Includes USB port to plug-in your device and while charging you can enjoy your music.
Alarm and Snooze Features
iBT20 contains a programmable snooze timer letting you sleep in a little or a lot with a snooze time from 1 and 29 minutes. Before hitting that snooze you will be awoken with a gentle increased volume and if you listen to music before you go to bed you can program it to decrease in volume to ease you to sleep. The iBT20 includes a backup battery which ensures alarm operation in the event of a power failure.
Features:
Wake or Sleep to Bluetooth audio, FM radio or 4 tones
Wirelessly stream music from iPad, iPhone, iPod touch, Android, Blackberry and other Bluetooth-enabled devices
Charge mobile devices via USB port
FM radio with 6 station memory presets
Reson8 speaker chamber technology and EXB circuitry for superior sound
Aux-in jack to play audio from audio devices equipped with 3.5mm headphone jack
100V – 240V universal voltage AC adaptor
Sure alarm battery backup ensures alarm operation if power fails
_________________________
Package Includes:
_________________________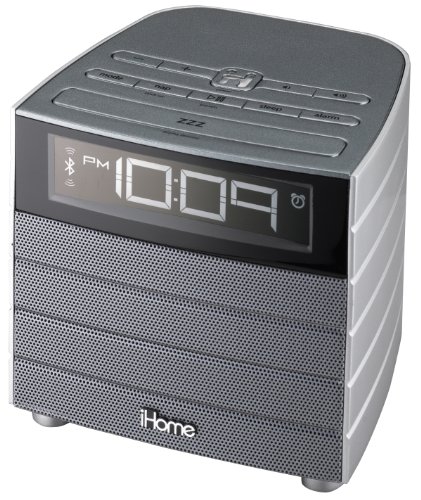 _________________________