Magic Mill Slow Cooker 7QT Flat Top
About this Item: 
_________________________
Specifically Designed for Shabbos Use
FIVE TEMPERATURE CONTROL: Whether you want to cook chicken, meat or broth, the five temperature settings of this slow cooker will allow you to set your desired temperature manually. A crockpot can also be used to cook food and keep it warm until served.
Reversible Deep Flat Glass Cover
NON-STICK TEFLON COATING: Cook eggs, chicken, rice, meat and so much more! The nonstick Teflon coating on our cooking pot allows you to cook without the fear of sticking or creating a mess which makes cleaning convenient and hassle-free. Plus you can also cook oil-free.
7 QUART CAPACITY: Cook delicious, home-cooked meals for the whole family! With a capacity of 7 quarts, our slow cooker crockpot can be used to prepare a meal for up to 7 people. Perfect for use in potlucks, family get-to-gathers, and much more.
COOL-TO-TOUCH HANDLES: Nonstick crockpot is engineered with cool-to-touch handles which prevent scalding and enables convenient carrying from kitchen countertop to the dinner table. The see-through glass lid will let you keep a check on the contents inside and the cover knob allows for easy lifting.
_________________________
Package Includes:
_________________________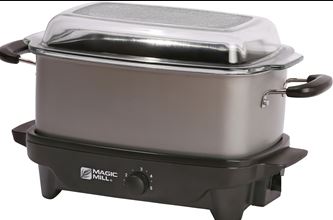 _________________________