Norpro 3 Piece Nonstick Cookie Sheet Set, Red Accents
About this Item: 
_________________________
Baking sheet set offers all you need to create batches with ease. Baking set includes nonstick baking sheet, silicone mat and cooling rack. Nonstick baking sheet is 19.25" x 12" x 1"/49cm x 30.5cm x 2.5cm. Inside: 16.75" x 11.25" x .75"/42.5cm x 28.5cm x 2cm. Red silicone mat is 16" x 10.5"/40.5cm x 26.5cm and heat resistant up to 450˚F/235˚C. Cooling rack is not intended for the oven. Also silicone mat protects nonstick baking sheet and makes for easy clean up! Includes a 16" x 10" / 40.5cm x 25.5cm cooling rack for quickly cooling down baked goods and grid eliminates baked goods from slipping through the rack. Protects your counter tops while baking sheet rests on cooling rack. Recipe included.


_________________________
Package Includes:
_________________________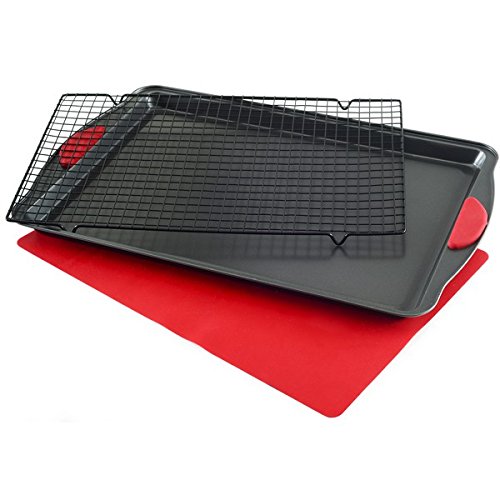 _________________________