Norpro Expanding Over the Sink Stainless Steel Colander with Base Frame
About this Item: 
_________________________

Have you ever spilled food or burned your hands while juggling both a hot pot and a hot metal colander? With the Norpro over-the-sink colander, your hands are free to handle one task at a time--your sink stabilizes the stainless-steel mesh basket. Simply place the rubber feet on the sink edges, sliding the handles outward for a custom fit. The basket can be adjusted to hang directly under your faucet for rinsing and washing. Slip a pan or bowl underneath the free-hanging basket to catch drippings, to strain gravies and sauces, or to sift dry ingredients.

 
_________________________
Package Includes:
_________________________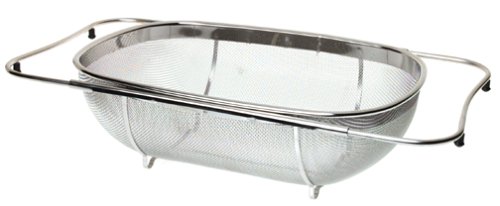 _________________________