O2Cool Boca Chaise Pool Chair Organizer
About this Item: 
_________________________

O2COOL's Boca Chaise Organizer is the perfect companion for relaxing on your chaise.  The ultra-absorbent microfiber organizer lays across your chair and provides storage pockets on both sides of the lounger for items you brought to the pool.  The pockets on one side are lined with water resistant material to resist staining from suntan lotions and other chemicals.  The organizer stays neatly on the chair and is machine washable. 

 
_________________________
Package Includes:
_________________________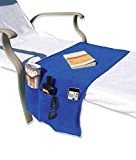 _________________________