Odev Salt Water or Solar Powered Robot Car DIY Toy
About this Item: 
_________________________

Geo is a STEM (Science, Technology, Engineering, Math) educational DIY robot kit that teaches young kids (Age 8+) about the value of alternative energy sources and the science behind them.
Note: The kit only allows you to build either one salt water powered robot or one solar powered robot at a time.

Hands-on Learning Experience
Allow children to interactively build a robot car using clearly labeled parts. It's a great family project and puzzle all in one!

Experiment with Alternative Green Energy Sources (Salt Water/Solar)
Geo Robot is powered by renewable energy (salt water, metal plates, charcoal, or direct sunlight), using a safer and non toxic power source.

Easy-to-Build STEM Kit
No screws or tools are needed to build Geo. Kids can easily build Geo in minutes by following the included detailed instructions.

Learn As They Play
Kids can learn how to use alternative green energy sources to power up Geo and see the robot zip away from their fingertips. Educational fun facts are also included in the instruction manual.

Recommended for Ages 8 and up
Product contains small parts, not for children under the age of 3.

Specifications
Size: 80 x 56 x 58mm
Weight: 45g
STEM Teaches: Assemble, Build, Engineering & Alternative Energy
Recommended Ages: 8+

***WARNING: The residue on the metal plates and the absorbent paper is magnesium oxide. While the magnesium oxide is safe to handle, please keep it away from the eye or mouth. If it gets in the eye, please use cold water to wash thoroughly. If it is swallowed accidentally, seek medical attention immediately.

 
_________________________
Package Includes:
_________________________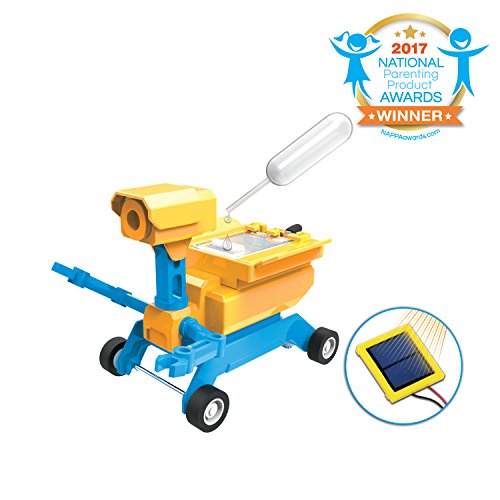 _________________________