OWI All Terrain 3-in-1 RC Robot Kit
About this Item: 
_________________________

Now they can engineer their own robot uprising with the Elenco All Terrain Robot. With a safe, no-solder design, this robot kit lets kids utilize different track modules to build a robot that transforms into three different forms - a forklift, a rover, and a gripper - all controlled with the included remote. As a forklift, the robot can lift up to 100 grams. As a rover, the tank-like treads roll over any surface. And as a gripper, the strong arms grab objects up to 100 grams and move them around the room. Create and re-create - assemble the robot, take it apart to make a new form, and repeat - it's endless fun and endless learning opportunities. Recommended for ages eight and up. Batteries not included. About Elenco Electronics, Inc. Elenco Electronics, Inc., was founded in 1972 by two electronic engineers. (The company's name is the first two letters of the words ''Electronic Engineering Corporation.'') Located in Wheeling, Ill., the company has grown from that two-man operation in a garage to a workforce numbering more than 50. And the company's products have broadened to meet customers' needs, now reaching telecommunication, education, toy, electric, and engineering fields. Through it all, Elenco's founding principle has remained the same: efficiently design long-lasting, high-quality products. Build your own remote-controlled robot. Includes a wired controller. Transform into forklift, rover, or gripper. Lifts up to 100 grams. Recommended for ages 8 and up.

 
_________________________
Package Includes:
_________________________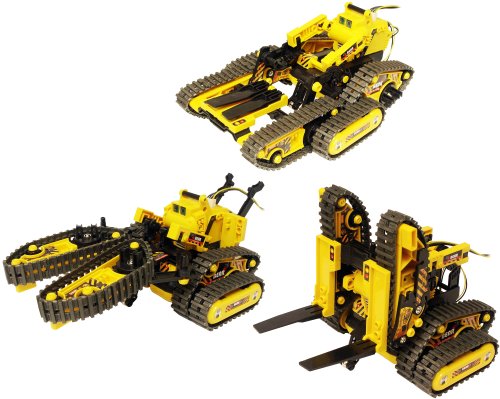 _________________________