Pyle-Pro 30 watt Professional Megaphone/Bullhorn with Siren and Recording Feature (4 d batterries)
About this Item: 
_________________________

They'll hear you at the far ends of the field when you use the 40W thousand-foot megaphone. Easy to hold, easy to carry, it has more than enough range. The microphone is built into the rear end of the unit and is activated by a trigger controBe heard up to 800 feet away with this super-powerful, 30 watt megaphone with voice recorder.This megaphone includes a 10 second integrated audio memory for voice playback. Amplify your voice cord-free and with clarity with this lightweight device.Unit includes adjustable volume control, built-in siren, and wrist strap for added safty. Requires 4 D batteries (not included).

Powerful, compact, and portable, this megaphone offers 30 watts of power and an 800-yard range for all of your long-distance communications needs. A built-in microphone, in the rear of the unit, is activated by a trigger control and offers convenient voice recording with ten-second integrated audio memory for voice playback. Additional features include adjustable volume control, a built-in siren, and a wrist strap.
Features
30-watt power
800-yard range
Variable volume control
Built-in siren
Voice recording capabilities
Ten-second integrated audio memory
Plays back recorded audio
Rugged ABS housing
Used By U.S. Army, Navy, Air Force, and Marines
Powered by four D batteries (sold separately)
Measures 6.25 by 6.25 by ten inches (W x H x D)
1.15-pound weight
Warranty
Pyle products include a limited one-year manufacturer's warranty against defects in materials and workmanship.
About Pyle
Electronics producer Pyle was originally founded in the 1960s, manufacturing advanced audio woofers. The company's popular first speaker, the Pyle Driver, eventually became a bestseller and household name. Over the course of the next four decades, Pyle broadened its line of audio equipment to include products in the automotive, home, marine, professional music, and outdoor categories.


_________________________
Package Includes:
_________________________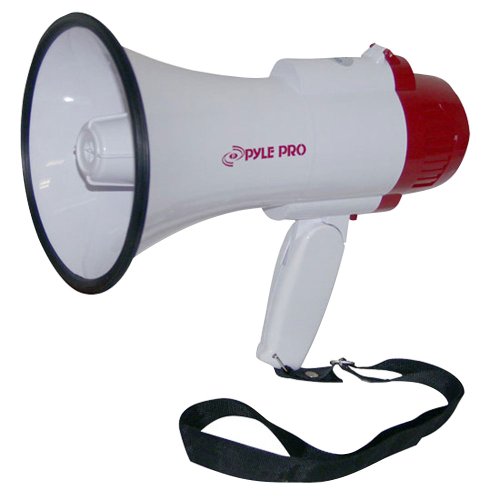 _________________________