Razor E100 Electric Scooter (Red)
About this Item: 
_________________________

Cruise around the neighborhood in style with the Razor E100 electric scooter. Boasting a chain-driven, high-torque motor, and a handy twist-grip throttle, the E100 is the perfect device for pre-teens and teens wanting to zip over to a friend's house or head to the park.

Unlike Razor's E300S and E500S scooters--whose motors start from a standing position--the E100 requires a small manual kickoff to 3 miles per hour before starting (the rider presses a trigger to engage the motor). Once the rider is on the move, however, the electric motor ramps up to 10 miles per hour--fast enough to have fun, but not fast enough to be a menace on the street or sidewalk. And thanks to the long-life rechargeable battery, which takes about eight hours to fully charge, riders can cruise for up to 40 minutes at a stretch. Other details include a folding handlebar mechanism for easy storage and transport, an 8-inch pneumatic front tire and 4.9-inch urethane rear wheel, and a hand-operated front brake. The E100 is recommended for ages 8 and older and offers a maximum weight capacity of 120 pounds. It also comes with a pair of 12-volt batteries, a charger, and tools and is backed by a 90-day warranty.

Now your kids can safely, quietly and effectively drive themselves with the Razor E100 Electric Scooter! Give your child the power to zip around the neighborhood, ride to the park or visit a friend at speeds up to 10 MPH with the most trusted electric scooter on the market. The thrill of power meets cutting edge technology with this kid-sized ride. The environmentally-friendly electric power engages a super quiet chain driven motor- great for you, your kids and your neighbors! The E100 offers up to 40 minutes of continuous use and features simple, twist-grip acceleration control. Razor offers a range of electric scooters for ages eight (E100) to adult (E200 and E300).

 
_________________________
Package Includes:
_________________________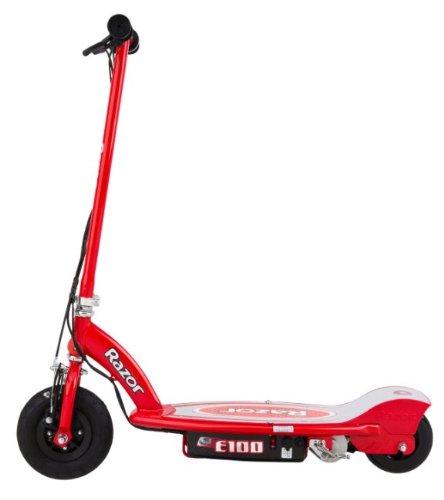 _________________________