Razor Kick Scooter (Green)
About this Item: 
_________________________

Razor A Kick Scooter

The original kick scooter, the Razor A is a handy little ride for kids and teens alike. Though it'll never replace the internal combustion engine, the scooter will get your child from point A to point B much quicker than on foot alone, and requires just a few scoots of one's shoes in the process. Plus, it's a blast to use, as your progeny will likely attest.
The Razor A is built of aircraft-grade aluminum, a sturdy material that holds up to use and abuse through the years. Its T-tube and deck, meanwhile, fold up into a compact footprint, so riders can fit the scooter inside a bag or carry it at their side when riding isn't appropriate (it weighs around 6 pounds). And thanks to the 98mm inline-style urethane wheels, ABEC 5 bearings, and patented rear fender brake, riders will always feel smooth and in control when kicking along the sidewalk.
Recommended for ages 5 and older, the Razor A will support a rider up to 143 pounds. It's also backed by a six-month warranty. For the next step up, try the Razor A2 Scooter.
When you're done riding, the Razor A folds down to a nicely compact size.
Specifications:
Scooter material: Aircraft-grade aluminum tube and deck
Wheel size: 98mm
Wheel bearings: ABEC-5
Brakes: Rear fender
Allen wrench: 5mm (not included)
Handlebar height: 33 inches (wheel to handlebar)
Weight: 6 pounds
Maximum rider weight: 143 pounds
Suspension: No
Wheelie bar: No
Kickstand: No
Folded dimensions: 23.75 x 4 x 7.25 inches
The buyer and rider of the Razor A scooter are responsible for knowing and obeying all local, state, and federal regulations regarding the riding and use of scooters.

About Razor
Founded in June 2000, Razor USA, LLC is a privately held company based in Cerritos, California and holds the worldwide rights to the Razor® brand. Home of the wildly popular Razor kick scooter, Razor has other scooters like the E100, E200, and E300--all electric scooters. The cutting-edge line of Razor products also includes the Dirt Rocket, Pocket Mod, Pocket Rocket, Ground Force, a line of electric powered ride-on toys, and a junior line of scooters. Razor also offers an action video--RVM--featuring Team Razor (pro scooter athletes ages 9 to 20, who tour the world participating in demonstrations and competitions). Razor has numerous awards including Toy Industry Association's "Toy of the Year" and "Toy of the Year" honors from TIME, Parents, Parenting, Sports Illustrated for Kids, Nick Jr., and U.S. News & World Report.





 

_________________________

 

Package Includes:

        

_________________________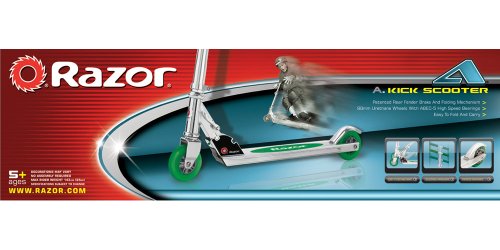 _________________________