About this Item: 
_________________________

No more struggling to cut all the ingredients separately, taking forever.
This magic salad maker does everything for you. 
Just insert the ingredients into the bowl, then cut through the slits while rotating the bowl.

In less than a minute, you will have a fresh, healthy salad to enjoy. To clean, simply rinse or place it in the dishwasher. No messy hassle.
 
_________________________
Package Includes:
_________________________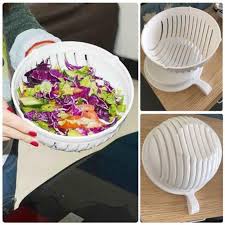 _________________________