Sonic Boom Vibrating Alarm Clock SB200SS
About this Item: 
_________________________
The SB200ss is a great bedside alarm clock as well as an easy clock to travel with. Basic functions include our unique dual extra-loud alarm for sleep and wake confidence, a large display with a 5-level dimmer, and our most powerful bed shaker allows others to sleep while you wake to the quiet vibrating bed shaker. Sleep well with the confidence of knowing you'll wake on time.
Specifications
113 db extra-loud alarm (with adjustable tone & volume control)
SS12VW Super Shaker™ bed vibrating unit
User selectable snooze time 1-30 minutes your choice
User selectable alarm duration from 1-59 minutes
Improved battery backup, will back up the time and alarm settings up to one week
New green power technology now uses 60% less energy
Alarm & Bed Shaker Test Mode, now test these functions at any time
Dual time (12 / 24 hour time formats)
5-level dimmer function
Dual alarm
One-year Sonic Alert® blast-proof warranty
Dual power capability, model SB200ss-v2 and v3 requires a travel adapter for 220 volt power. This adapter is the type that converts the prong configuration only.
_________________________
Package Includes:
_________________________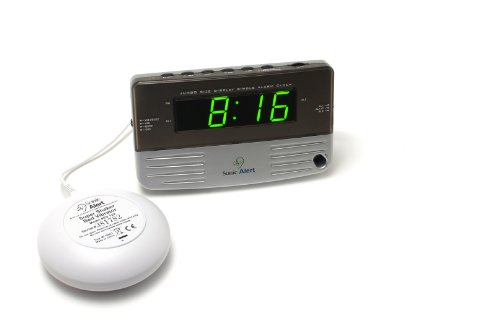 _________________________