Sophia 20 Piece Flatware Set, Red by Hampton Forge
About this Item: 
_________________________

Chunky and inviting, Argent Sophia Red flatware from Hampton Forge has a pleasant retro look that makes a great choice for daily dining and casual celebrations. Crafted from durable plastic and 18/0 stainless steel, the pattern features comfortable handles. With 20-piece in all, this Sophia Red set includes: 4 Dinner Forks, 4 Salad Forks, 4 Dinner Knives, 4 Dinner Spoons, and 4 Teaspoons. For convenient cleanup, all-piece are safe in dishwasher with non lemon or acidic detergent.

 
_________________________
Package Includes:
_________________________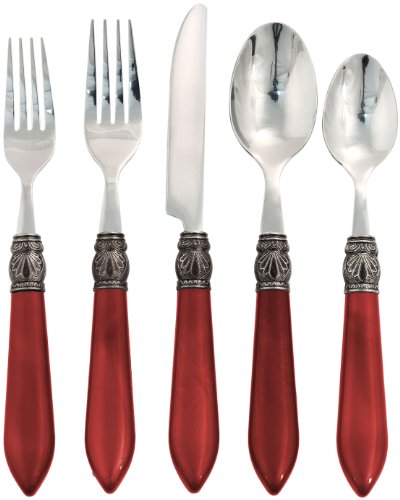 _________________________