Vapamore Ultimate Steam Cleaner
About this Item: 
_________________________
The Vapamore MR-100 PRIMO is a complete cleaning system made to clean and sanitize your entire home using the power of steam, eliminating the need for toxic and expensive cleaning chemicals. The cleaning possibilities are limitless with the wide range of included accessories and attachments. The MR-100 PRIMO is made for a lifetime of use, backed by an exclusive Lifetime Warranty.
The PRIMO features include an exclusive patented style and ergonomic design with a sturdy chassis and casing featuring an internal insulated heat shield for efficient heating and safety; Corrosion resistant stainless steel boiler; Intuitive operation with adjustable steam output and operation indicator lights with easy to read labeling; Cheme solenoid to eliminate water and condensation build up in the steam hose; Accessories and attachments twist and lock securely in place; Three Extension tubes with a storage hook for quick and easy set up and storage; Dual sided micro fiber floor cleaning cloth with insulated thermal core; Comfortable padded steam gun rubber handle grip; Solid rubberized wheels; 18 foot retractable power cord; On board accessories storage compartment; Balanced carrying handle with rubber grip.
The MR-100 PRIMO design features are based on consumer feedback to enhance usability, durability and easy operation. All this combined with Vapamore's high level of customer and product support making the MR-100 PRIMO, hands down the best steam cleaner available.
Included Accessories:
Included Accessories
The detail adapter can be as is or with the jet nozzle accessory for hard to reach areas such as toilet seat hinges, bathroom or kitchen fixtures and faucets, or any other hard to reach areas. These jet tips also work great for spot treating fabric stains and even cleaning jewelry.
The clothes / fabric smooth surface attachment provides dual functions; as a squeegee it can be used for cleaning and sanitizing granite counter tops, kitchen counters, cleaning shower doors or any smooth surface area.
With the cotton cover it is used as a clothing / fabric steamer for removing wrinkles from clothing or other fabrics, spot treating furniture or freshening up pillows and bedding. Another important function bed bug and dust mite treatment.
The scraper attachment is great for removing stuck on food from ovens and ceramic stove tops, as well as removing shelving paper and wall paper.
Accessories are conveniently stored on board for easy access
The metal brush can be used to clean BBQ' and oven grills, stains on cement or hard surfaces, or anywhere a strong brass brush would be used. The nylon brushes remove dirt, grease, grime and even soap scum or any place that requires light to medium scrubbing.
The floor cleaning head with the micro fiber cover cleans and sanitizes smooth surface floors such as tile, travertine, wood or even laminate floors.
Using the floor cleaning head without the micro fiber cover to scrub shower walls, tile floors, grouted floors, cement, or stained area. It may also be used for bedbug and dust mite treatment on a larger surface such as a mattress, or carpeting.
Concentrate steam on tough to clean areas with specially designed accessories
_________________________
Package Includes:
_________________________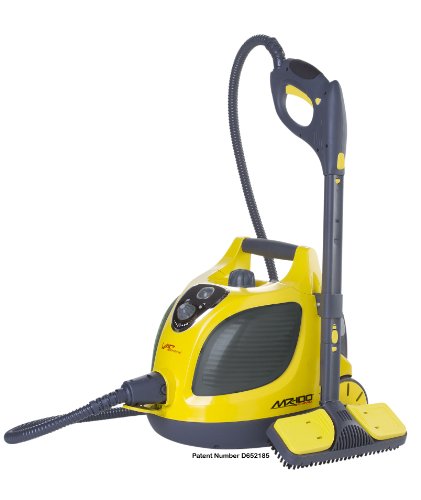 _________________________