Wilton Chocolate & Candy Melts Melting Pot, 2104-9006
About this Item: 
_________________________

Make chocolate covered strawberries, chocolate covered pretzels, the perfect cake pops and more with the Wilton Candy Melts Candy Melting Pot. Unlike the original Wilton Chocolate Pro Electric Melting Pot, this chocolate warmer features an easy-to-clean and convenient removable silicone pot with a sturdier ergonomic, heat-resistant handle and two easy-pour spouts — perfect for pouring melted candy into a decorating bag or drizzling directly onto treats. Once you've finished making your treats, simply chill the silicone pot until the candy hardens, then gently squeeze the soft silicone pot to break up the candy a bit and it comes right out, making cleanup easy! This chocolate tempering machine makes it easier than ever to quickly melt up to 2 ½ cups of Candy Melts Candy or chocolate in less than 10 minutes. With two temperature settings - warm and melt - it's easy to melt the candy and chocolate. The chocolate warmer setting keeps it at a consistent temperature while you dip your sweet treats, so you won't have to rush back and forth from the microwave to keep it from hardening. You'll love how easy it is to make candy-coated fruit, cookies, pretzels, cake pops or other snacks by dipping it in chocolate fondue. Innovative heating base stays cool to the touch and a safety light indicated when the pot is on. The melting pot also has rubber feet to keep it steady and in place on your counter. Pot is powered by a standard 120 volt cord with polarized plug. Complete instructions included.

 
_________________________
Package Includes:
_________________________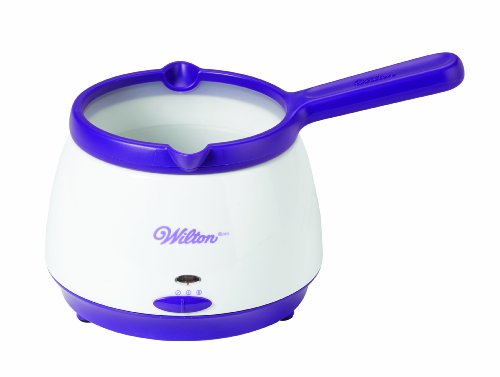 _________________________