YBM Home Triple laundry hamper (Chrome / Black)
About this Item: 
_________________________
This YBM HOME Heavy-Duty Triple Laundry Sorter, Chrome/Black makes separating your laundry a breeze. This attractive combination laundry hamper will help you separate your laundry to best fit your family's lifestyle and/or your laundry routine.
Create a space for bed or dining linens or give one bin to each person. The choices are endless and the whole family can participate in making laundry fun.
This great hamper is a nice size, not too large, to fit most spaces.
It has 3 removable black poly-cotton sorting bins with metal handles for easy lifting that Won't Mold Or Mildew. Casters For Mobility , Easy Assembly.
Measures approximately31 3/4 inches wide by 19 inches Length by 30 inches Height
_________________________
Package Includes:
_________________________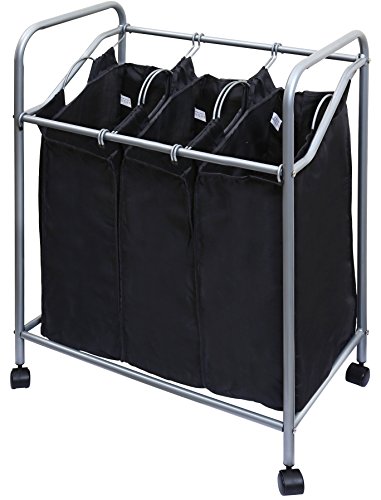 _________________________